:: consultation ::

With all the different paths of technology it is often difficult, if not impossible to decide where to begin. Don't give up so easily. Did you know that many of the greatest ideas have been dismissed as impossible or unrealistic to attain?

With the exponential growth of the internet, if you don't act now...someone else surely will. Whether you are in the infancy stages of your business plan, or are looking for some final advice, contact us. You have absolutely nothing to lose!

We are always open to brilliant ideas, and would like to hear yours!

:: TESTIMONIAL ::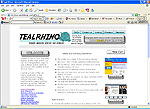 Jason,
I have to tell you that I am very pleased with the site. You and your staff are all top notch, and I will be recommending you to my friends and associates.

Derek Archer
President
Teal Rhino

Contact us today!