:: e-business deployment ::

Why wouldn't you sell your products or services online?
E-business has little overhead compared to a brick and mortar store.

You are open 24 hours a day, 7 days a week, 365 days a year.

The ENTIRE world is your storefront, not a specific demographical location.

You don't need as many employees.

Seasonal merchandise can sell year round!

Customer parking is not an issue.

...and the list goes on.
We are extensively trained in the most important issues regarding today's e-business economy. Take a look at your favorite web sites. JPL Web Design Company has no limitations for programming and design work.
We can build your shopping cart to accept major credit cards, PayPal, and Google Checkout.

:: TESTIMONIAL ::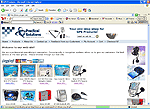 Dear Jason,
I wanted to say big THANK YOU for your work. You are a true professional.
I am looking forward to continuing work with you as my business will grow. I am expecting a fruitful collaboration between us.
Thank you,

Practical Solutions

Contact us today!